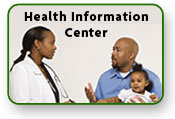 When parents have a child or young adult with a disability or special health care need, they take on additional roles beyond typical parents. Parents become caregivers, advocates, and decision makers in all the systems their child is involved in such as education, social service, and health. But what happens as our children become young adults? How can we prepare them to take on some of those roles to better advocate for themselves if they are able?
Within the school system a student on an individual education plan (IEP) is involved in required transition planning with their team. Health advocates at PACER Center's Health Information Center encourage families to include skills related to health care advocacy and transitioning from the pediatric system to the adult health care system into their IEP, 504 or Individual Health Plan.
Within the health care system it is also important to help young adults understand their role as advocates so that they can best prepare for medical appointments and take ownership of their health for better health outcomes.
When working with families and young adults, we help them understand that an advocate is someone who speaks up to make things better.  We help them see that as  young adults with disabilities or special health care needs, they have most likely already had opportunities to advocate for themselves. They advocate each time they speak to a teacher, job supervisor, doctor, nurse, social worker, or others in an effort to help them succeed.
Tips for youth/young adults:
When advocating for yourself in the health care system make sure you have a positive relationship with a compassionate and qualified physician.
Consider whether your doctor meets the following basic expectations: Does the doctor show respect for you and your support system, show a willingness to listen patiently, take your concerns seriously, have courteous office staff, and support your goals Throughout your relationship with the doctor, you should think about whether these basic expectations are being met.
As a patient, you must also do your part to ensure a good relationship and good communication with your doctor.
As you work with your doctor, keep the following things in mind:
Before an appointment
Ask a family member, trusted friend or support person to go with you to medical appointments.
Ask for a long enough appointment.
Make sure you know about your medical insurance and carry your card with you.
Arrange for transportation if needed.
Write down your questions and concerns, ask for input from a family member or support person if needed.
You have the right to copies of your medical records. Keep your own records of tests, procedures, and their results.
Organize medical records: You can do this by dividing a three-ring binder into sections, such as current care plan, providers' names, health history, current and past medications, addresses and phone number, bills, referrals, insurance information, and appointment logs. Pre-made medical records systems are also available, as well as online medical organizers. Ask a family member or support person for assistance if needed.
During the appointment
Bring your list of questions and concerns.
Ask questions: Do not hesitate to ask questions and do not be embarrassed to ask for clarification when you don't understand something the doctor says.
Make an effort to understand the doctor: Listen and take notes.
Ask the doctor to explain the treatment plan and put it in writing:  repeat the care plan back to the doctor as you understand it, and ask questions.
Ask who to call if you have questions after the appointment.
Make sure you write down what you need to do after the appointment.
After the appointment
In order for you to have successful health outcomes you need to make sure that you are following through with the recommendations that were made during the appointment.
Do you need to ask a family member or support person to help you follow through with the recommendations that the doctor made?
Do you need to schedule another appointment?
Do you need to pick up a prescription?
Do you need to talk with someone in the billing office?
Remember, learning the skills needed to be an effective advocate can help you receive services and supports. You are the expert on your own needs. Only you have the lived experience of day in and day out responding to your challenges. Your knowledge can be used to improve your life and even the lives of other young adults. Teamwork and collaboration among families, young adults and professionals are essential to provide quality care and will lead to better health outcomes.
For more information on advocating within the health care system please contact PACER Center's Health Information Center:  1-800-537-2237 or http://www.pacer.org/health/
Related resources:
Got Transition: National Health Care Transition Center for families supporting youth and young adults to access health systems as new health care consumers
One way to improve health outcomes for youth with disabilities is ensuring that they successfully transition from pediatric to adult health care. Here are some resources to share with providers.
By Wendy Ringer, Coordinator of PACER Center's Health Information Center in Minneapolis, MN.  PACER is a partner in the National Collaborative on Workforce and Disability for Youth.