The following blog was written by Sarah Ferrell, an intern with the National Collaborative on Workforce & Disability for Youth, housed at the Institute for Educational Leadership.
Want to share your own ADA Generation story? In celebration of the 25th anniversary of the ADA and the contribution and impact of the ADA Generation, our host organization, IEL, is collecting stories from youth and young adults with disabilities who grew up under the ADA and their allies. These stories can be personal narratives, reflections, or other creative work. IEL is particularly interested in stories related to transition to adulthood, including secondary and postsecondary education; work skills, internships, and employment; and independent living. IEL will publish selected stories on its website. IEL will also share them through social media and include them in IEL's ADA celebrations. See more details and how to submit your story online.
My first grade class was gathered together to be told that we would have a new student join our class in a few weeks. This student had a condition called Cerebral Palsy, a condition that affected her ability to move and speak. We were told that she was in a wheelchair and would be accompanied by an aide to help her complete her classwork, eat her lunch, and get around the building. But it was important to know that this student was still just as smart as us; even though she could not speak as well as we could, she could still think and communicate.
When the student did join my class, she was in the classroom the majority of the day, participated in all of the related arts, and ate at our lunch table. I saw how the girl could point to objects on a picture board and was learning to read like me and my classmates. Her aides were a middle-aged woman and occasionally a young man who were so kind to the rest of us; I loved sitting and talking with both the student and the aides during lunch.
A few years later I would
join the chorus and be seated next to an older student with Autism. I would also be partnered as a reading buddy with a younger student who had a learning disability.
DisAbility Awareness Program (dAp) Day at my school was one of our favorite days of the year. Instead of attending our regular classes, my elementary classmates and I would be moved around the building, learning about relay devices for Deaf individuals, participating in wheelchair races, interacting with service dogs, and hearing from different speakers abut disability-related issues. I still remember an elderly couple with Cerebral Palsy talking about their experiences in college and work, and remembered my former classmate who also had Cerebral Palsy, hoping she too could go to college one day.
By high school, I had joined the "Buddy Program," an after-school group for students with and without disabilities to just hang out and establish relationships. Then, during my junior year, because of the relationships I had developed with students in the Academic Life Skills (ALS) program, I became a peer tutor. As a peer tutor, I accompanied another student to her software applications class to assist her in completing assignments and tests. I quickly learned that we had to communicate with the special education teacher to make sure the girl was receiving adequate accommodations, and continually had to advocate with her when the teacher was not allowing her additional time or adjusting assignment requirements (the teacher was willing to make accommodations when requested, but she was not proactive in modifying assignments and tests). Other students in ALS were also included in regular classes and could be seen walking the halls, going to their lockers, or eating in the cafeteria on their own. Their individual personalities and interests were celebrated, like one boy who pretended to be the "Mayor" of the school and had weekly lunch meetings with the principal.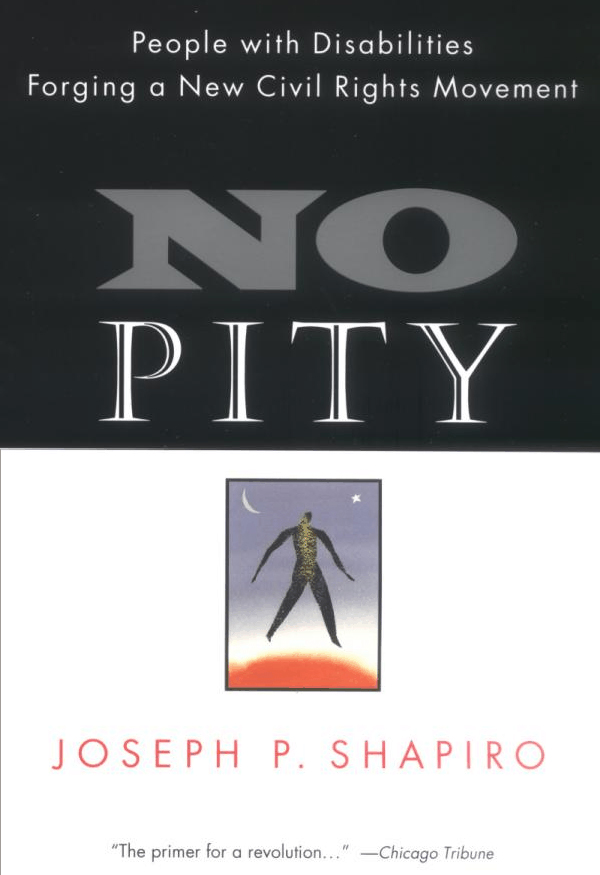 Needless to say, when I began reading No Pity by Joseph Shapiro I was shocked to learn the history of civil rights in the US for the disability community. The Individuals with Disabilities Education Act (IDEA) was not passed until 1975 and the Americans with Disabilities Act (ADA) was not passed until 1990.  Really, not until 1990? I was in first grade in 1999 when all students were fully or near-fully included in the classroom and dAp day was a well-established and regular event. Could it be that students elsewhere did not grow up in inclusive environments like this?
In this way, dAp day at best did not reach its full potential, at worst did a disservice to us students. We learned about the abilities of individuals in the disability community, we learned to not fear someone just because they were different, and we learned how to be respectful of someone who uses a service dog; but we never learned that life was not all fine and dandy for the disability community. We received a (albeit watered-down) version of the civil rights movement beginning in kindergarten, but we never learned that our peers with disabilities also had to continually fight for their rightful place in society. These topics could easily have been included in a dAp day presentation. Even in high school as a peer tutor and involved in the buddy program, nobody ever discussed the clash between those who wanted full inclusion for students with disabilities or those who wanted separate learning environments. It was not even until my third year in the buddy program that the teacher facilitated training on inclusive language and appropriate behavior for group members. It was almost as if up until then we were just volunteers doing a charitable service, without 1) acknowledging the mutual benefit for all participants or 2) realizing the disservice we could do through inappropriate language or behavior.
Still, dAp day, the Buddy Program, and peer tutoring existed – and thrived! – in my schools.
After a little cursory research, I learned that the county's dAp day was officially created in 1979, just four short years after the implementation of IDEA (originally titled the Education for All Handicapped Children Act), but had been informally run for several years before that. A teacher created the informal program in her classroom which spread school-wide, and before long, she left her teaching position to run the program for the county full-time. Reading Shapiro's descriptions of parents and students that struggled for years to have their rights recognized by the public education system and broader communities shocked me, when it seemed to happen so effortlessly from the bottom-up in my county's schools. Shapiro provides accounts that continue into the 1990s of schools denying entrance or integrated classrooms for students with disabilities, while at the same time I was participating in such fully integrated classrooms. What was it about that community at that time that enabled progress so much quicker than the rest of the nation? Are there still places throughout the country that continue to deny rights to the disability community, but we just aren't hearing about it?
My K-12 experience demonstrates without a doubt the successes of IDEA and ADA. It highlights the route moving forward: the potential for other schools and communities to adapt and better support their entire community, and for current systems to grow and improve existing structures and programs to assure equal access and nondiscrimination for people with disabilities
Related Resources: